Fall is almost upon us, bringing with it the return of Whistler's favorite food and drink festival – Cornucopia! Each day of Cornucopia is packed with events, where visitors will have the chance to discover some of the best food and drink from BC and beyond. This fall, the festival will be held from November 8th-18th at a variety of venues and hot spots around Whistler.
The festival truly is a haven for food and drink enthusiasts, with opportunities to learn from expert keynote speakers, gain new skills at chef demonstrations and "geek out at our workshops". Other fantastic events include signature tastings, drink seminars and many more.
Although we would love to spend all 11 days indulging in Cornucopia events, we have picked some of our favorite signature events to share with you.
For the complete schedule and to purchase event tickets, simply visit www.whistlercornucopia.com. And of course, don't forget to check our availability and secure your accommodation in Whistler.
House Party: Best of BC
Thursday November 8, 2018
The Best of BC offers guests an opportunity to experience the best combination of local foods and domestic wines, spirits and beer. Indulge in a delicious BBQ from our backyard, home-grown vodka, micro-brewed beer and much more from BC's land of plenty. House Party is a favorite year after year and a recurrent sold out event!
Cellar Door Grand Tasting
Friday November 9, 2018
Cellar Door unlocks the gates to the world of luxury fine wines and champagnes by uncorking top-shelf bottles to sip, savor and salivate over. Discover new wines and meet the producers and winemakers behind them. Browse the wineries and indulge in gourmet treats. Everyone will be living the high-life, when Cornucopia opens the Cellar Doors.

Crush Grand Tasting
Saturday November 10, 2018
As the renowned flagship grand tasting event of Cornucopia, Crush creates a vibrant atmosphere for attendees to sip, savor and sample their way through the night. With wineries from BC and beyond, and bites from some of the Sea to Sky's best restaurants, crush is a feast for the senses.
With a Twist Silent Disco and Tasting
Sunday November 11, 2018
Celebrate Cornucopia in style at this Silent Disco with a twist! With each attendee receiving their own pair of headphones, you can experience three parties with three different DJs at the touch of a button. Take a break from the dancing to browse, taste and learn about the world of beer, spirits and cocktails as world-class mixologists and producers showcase their favorite liquids.
Cornucopia Night Market: Taste of the World
Friday November 16, 2018
Demonstrating the wonderful adaptability of wines, beers and liquors, attendees enjoy this fun-filled evening in a casual yet refined environment replicating street style cuisine from across the globe. Browse through the markets enjoying flavors from sweet to spicy to savory, whilst discovering a variety of beverages to suit each style.
Poured Grand Tasting
Saturday November 17, 2018
Poured is the most all-encompassing drink event at Cornucopia. Discover the full spectrum of what the beverage industry has to offer as you sip scotch, craft BC Beer, Canadian Cider or a fine wine from across the globe.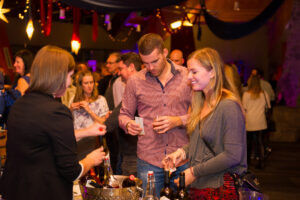 Images: Tourism Whistler/Mike Crane