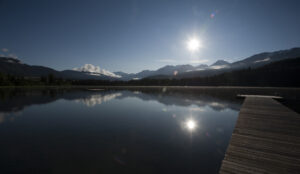 The Sea to Sky Highway between Horseshoe Bay and Pemberton is home to quite the collection of BC Provincial Parks worth visiting. These beautiful parks feature everything from quiet day use picnic spots to extremely popular campgrounds on picturesque lakes. Whether quickly visiting on route to a Whistler getaway or using Whistler as a home base for your park explorations, here are some of the parks we recommend scheduling into your next Whistler trip.
This park has day use picnic areas with washroom facilities and also features waterfront campsites with a view of Howe Sound and the mountains beyond. This park is very popular with scuba divers as there is an old ship sunk in the shallows to attract marine life.
A day use only park located directly on HWY 99 with a great swimming and fishing lake called Browning Lake. While the lake is certainly of one of the biggest draws of the park (and perfect for a quick dip on a hot day) Murrin Park also offers great hiking and rock climbing opportunities which include a number of significant rock walls.
The Stawamus Chief Cliff is one of the largest granite monoliths in the world and the park is truly a world class climbing destination. The park is host to both day use areas and overnight camping including the winter months. There is a popular, but difficult hiking trail which can take visitors to the top of the Chief itself providing an amazing lookout over the town of Squamish and the end of Howe Sound. Other attractions include Shannon Falls and the Sea to Sky Gondola which provides an easier way for visitors to get up into the surrounding mountains.
This family friendly park is surrounded by dense forests and world renowned mountain bike trails. There are four fresh water lakes for swimming and fishing all connected by the Four Lakes Trail. Alice Lake has a great day use area with beaches, docks, and a playground as well as an extremely popular campground with full facilities. Reservations are definitely required for camping here and are generally sold out many months in advance during the busy summer months.
Designated as a Provincial Park in 1927, Garibaldi is by far the largest of the parks in the area encompassing almost 200,000 hectares, or 2,000 square kilometers. With numerous access points, trail networks and wilderness camping options, Garibaldi Park includes vast wilderness areas from Squamish all the way north of Whistler. Much of the park consists of rugged mountains with ancient glaciers and deep valleys so recreation tends to be of the back country variety.
Brandywine Falls is a spectacular 70 metre waterfall which is best seen from the viewpoint located about 15 minutes hike from the highway side parking lot. This park is a day use area only and provides great opportunities for hiking, picnicking and viewing of the waterfall.
Located about 3kms south of Pemberton or 20 minutes North of Whistler, Nairn Falls makes a great day trip for guests visiting Whistler during the summer months. A riverside hiking trail from the campground will take you to the falls viewing platform which provides a great view of these powerful falls. While only about 60M high, these falls have the full force of the Green River behind them and are a sight to see, especially in the spring when water levels are high.
While this is already a substantial list of Provincial Parks in the Sea to Sky Area, there are certainly a number of other parks in the area worth visiting. The Whistler area is truly one of a kind when if comes to the rich diversity of our parks and recreational opportunities. Speak with any of the Whistler Superior Team and we'll be delighted to share our knowledge of this amazing region.