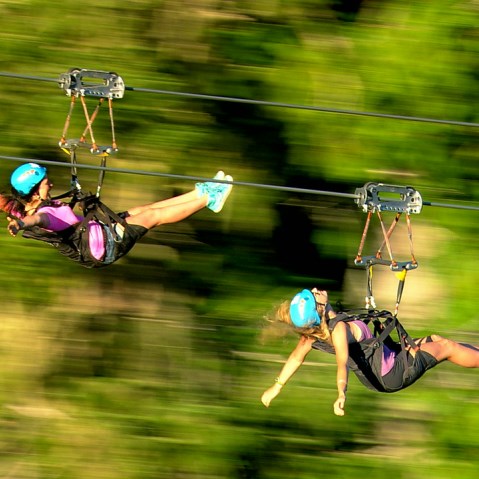 The Adventure Group Whistler (TAG)
The Adventure Group Whistler (TAG) represents the best activities and things to do in Whistler, British Columbia. They deliver high-quality experiences that are fun, safe and convenient. The TAG team loves sharing the wonderful, natural playground they get to experience every day! Whether you are on a first date, with a group of friends, proposing to your girlfriend or looking for a tour for your whole family, TAG has the perfect adventure for you.
Zipline
On the 'Superfly Zipline' tour, you can truly be a bird for the day! This Ziplining tour combines the exhilarating feeling of souring through the air while taking in the breathtaking beauty of Cougar Mountain. With this custom-built adventure, you will experience four side-by-side ziplines stretching across valleys and through old-growth forest. The tour features a newly engineered and revolutionary breaking system, West Coast inspired architecture and a network of paths and platforms designed to immerse you in the peace, quiet and freedom of the forest.
RZR's
Fire up the engine of your RZR and cruise along the rugged trails, side by side, in exhilarating comfort. These off-roading buggies will take you up mountains, over rocks and hills and high above glacier-fed lakes as you travel through the Whistler backcountry at Cougar Mountain. There is nothing more exhilarating than putting the "pedal to the metal" and roaring through the dust and mud on your fully guided tour. Stop and take in some of the most breathtaking and unique views that Whistler has to offer.
Treetop Adventures
Step into a harness and play like a kid again on this incredibly unique aerial tree top course. With over 70 elements ranging from mild to wild, this is sure to be an experience you won't soon forget. The treetop adventure course is a natural team building activity and a perfect adventure to share with family, friends and even make new friends along the way. For the younger adventurers, there is also a designated kids' course available for ages 7-13 to challenge and test their skills.
To Book Your TWA experience of choice or ask for details, contact us at info@whistlersuperior.com or call us Toll Free at 1 877 535 8282.