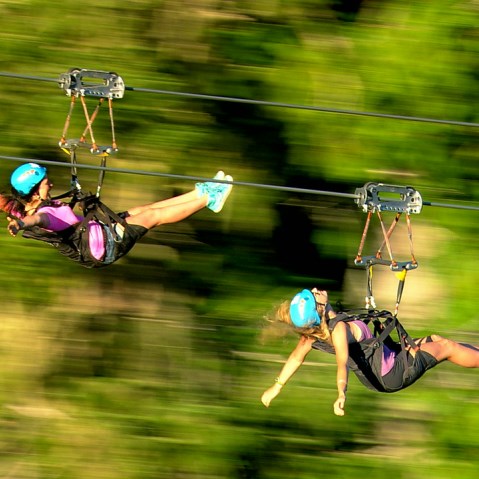 Ziptrek – Summer
With Ziptrek Eco Tours, you will explore some of Whistler's true old-growth temperate rainforests while taking in spectacular scenery and amazing views along your zipping adventure. With a range of tours on offer Ziptrek really does have something for everyone, all year round!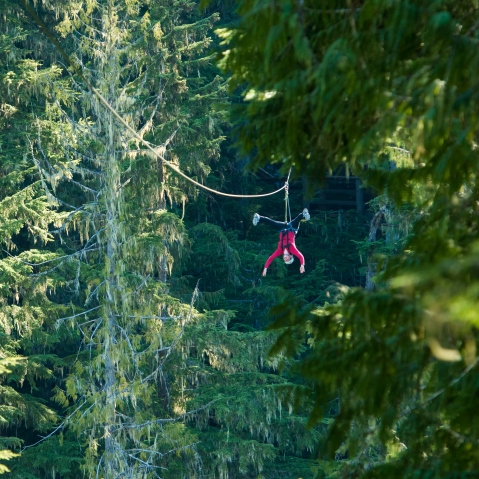 Bear Tour
Ziptrek's legendary and original tour, The Bear Tour, will take you across the valley between Whistler and Blackcomb mountains above Fitzsimmons Creek. The tour is made up of five ziplines, ranging from 400 – 1100 feet, which are joined by a network of suspension bridges, boardwalks and trails. In between zipping guests will learn fun and interesting facts about the local natural environment. This tour is perfect for groups, families and first time zippers!
Eagle Tour
This Ziptrek tour will have you flying like an eagle over the Fitzsimmons Valley on five different ziplines, including a 2400 ft zipline with a 30-storey descent! The Eagle tour is perfect for anyone looking for a heart-pounding adventure or repeat zippers. Experience spectacular panoramic views of Whistler & Blackcomb Mountains as you cross treetop suspension bridges and sky high viewing platforms that connect the ziplines. With lift access to the first zipline, this tour starts and ends right in the heart of Whistler Village.
Treetrek Tour
Journey high amongst the treetops on this guided interpretive adventure, through a spectacular network of suspension bridges, suspended stairways, boardwalks, and trails. The Treetrek tour is perfect for all ages with no ziplining required. Children 5 and under go free, and infants are welcome in a self-supplied backpack carrier.
Sasquatch Tour
Looking for something even more adventurous? Well look no further! The Sasquatch tour is the ultimate zipline experience. Spanning a mind-blowing distance of 2 kilometers, you will experience spectacular views and pure exhilaration whilst soaring 600 feet above the ground and reaching speeds of 100km/h! This is a zipline adventure you simply won't forget.
To Book Your Ziptrek experience of choice or ask for details, contact us at info@whistlersuperior.com or call us Toll Free at 1 877 535 8282.