Whistler is an official Bear Smart community. Over 3 million tourists visit our little town of 12,000 year-round residents, but we also have another local population – about 50 black bears.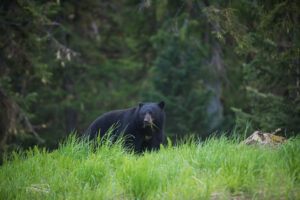 As a visitor you will probably see our local bears while sightseeing on the mountain, riding the bike park or cross-country bike trails, hiking in the area or golfing (black bears love the greens just as much as the golfers). But not to worry! Our lumbering bear friends are predominantly vegetarian and there's lots of information around town on how we can all live in harmony.
As a Bear Smart community we try to address the root causes of human-bear conflicts, reducing the risks to human safety as well as the number of bears that have to be destroyed. Whistler has implemented a number of Bear Smart policies and practices: Bear-proof garbage management, camping rules, wildlife smart landscaping and many more. You will see these in effect when you walk around town.
People and bears can live together, but it is the responsibility of everyone in Whistler – including visitors – to give the bears enough space if you see them (don't approach the bear for a selfie!) and be diligent with garbage disposal. The sad truth is that "A fed bear is a dead bear".
If you want to get a closer look at bears and learn about bears in a safe way, choose from one of the local operators offering bear viewing tours. Whistler Discovery Tours takes you on Land Rover Excursions in the morning or at sunset. Whistler Photo Safaris takes you on private tours in Whistler Olympic Park to see the bears as well as some beautiful sights like Alexander Falls and a Black Tusk lookout.
To Book Your Bear Viewing experience of choice or ask for details, contact us at info@whistlersuperior.com or call us Toll Free at 1 877 535 8282.
Image credit: Tourism Whistler / Mike Crane