Whistler, British Columbia, is a world-renowned resort town known for its stunning natural beauty and outdoor recreational activities. The fall season in Whistler, typically spanning from September to November, offers a unique and picturesque experience for visitors and residents alike. Here are some key aspects of the fall season in Whistler: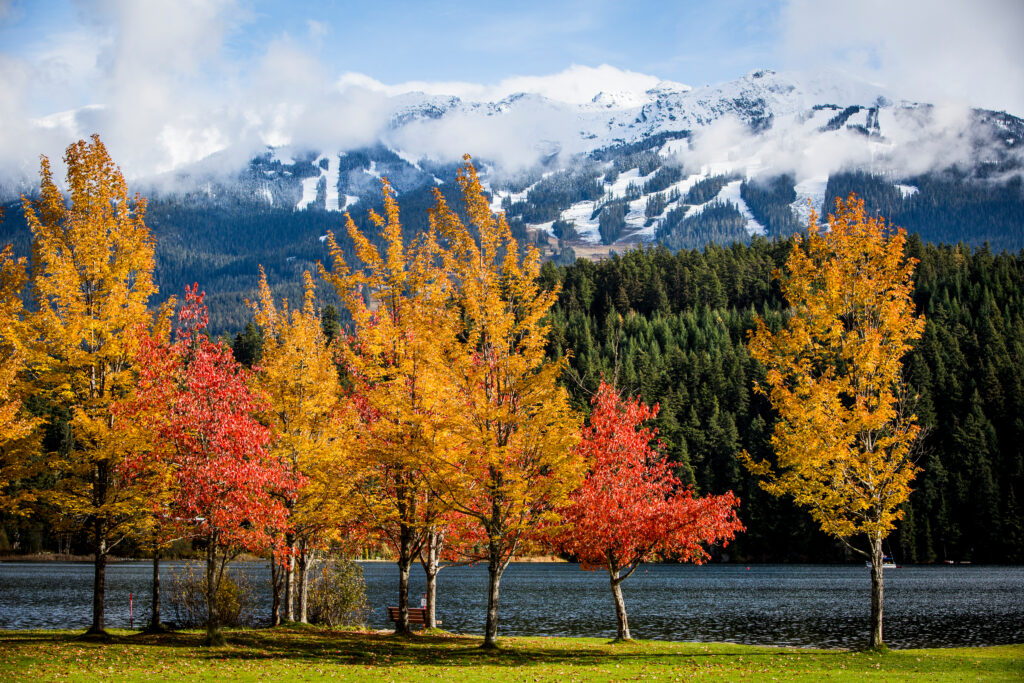 Foliage: One of the highlights of the fall season in Whistler is the changing of the leaves. The surrounding forests transform into a vibrant tapestry of reds, oranges, and yellows as the deciduous trees shed their leaves. This creates a breathtaking backdrop for outdoor adventures and photography.
Cooler Temperatures: As the summer warmth begins to wane, fall brings cooler temperatures to Whistler. While September can still have some mild days, October and November gradually become colder. It's essential to pack appropriately for the changing weather, including layers and a good jacket.
Outdoor Activities: Fall is a fantastic time for outdoor enthusiasts. Hiking and mountain biking trails continue to be accessible, and the cooler temperatures make for comfortable excursions. Popular trails like the Valley Trail, Lost Lake Park, and the Whistler Mountain Bike Park offer scenic experiences during this season.
Wildlife Viewing: Fall is also an excellent time for wildlife enthusiasts. Bears, deer, and other animals become more active as they prepare for winter, making it easier to spot them in the wild. However, it's crucial to keep a safe distance and avoid feeding them.
Reduced Crowds: One significant advantage of visiting Whistler in the fall is the reduced crowds compared to the peak summer and winter seasons. This allows for a more relaxed and peaceful atmosphere to enjoy the natural beauty of the area.
Festivals and Events: Whistler hosts various fall festivals and events, including the Whistler Village Beer Festival, Whistler Writers Festival, and Cornucopia, a food and wine festival. These events offer unique opportunities to taste local cuisine, sample craft beers, and appreciate arts and culture.
Ski Season Preparation: As fall progresses, Whistler starts gearing up for the winter ski season. Ski and snowboard enthusiasts can get excited about the upcoming snowfall, and some may even get a head start on winter sports at higher elevations.
Whistler Village: The picturesque Whistler Village is charming year-round, but in the fall, it takes on a cozy and inviting atmosphere. Cafes, restaurants, and shops remain open, allowing visitors to explore and enjoy the village without the bustling crowds of peak seasons.
It's worth noting that the weather in Whistler during the fall season can be unpredictable, with occasional rain and chilly temperatures, so packing for variable conditions is advisable. Whether you're interested in outdoor adventures, scenic drives, or simply relaxing amidst stunning fall foliage, Whistler, BC, offers a captivating experience during this season.